We are open! Come on by and check out our recently updated showrooms at our Burbank, CA headquarters, and our Brooklyn, NY location. Social distancing and masks are required for all guests.
During your scheduled visit, you can get an up-close look at:
LiteMat Spectrum: LiteMat Spectrum's ease of use and vast mounting options make LiteMat Spectrum a must-own. LiteMat Spectrum is built upon these features and adds full-color capabilities, wide-range Kelvin temperature adjustment, +/- Green correction, full spectrum desaturation of color, Rec. 709 color space compliance, and large format pixel control. Technicians are going to love it.
Spectrum OS2: Spectrum OS2 is an all-new operating system for LiteDimmer Spectrum ballasts. Re-coded from the ground up, the update brings new features, improved stability, and added enhancements. Spectrum OS2 is compatible with all Spectrum ballasts and can easily be installed with the use of the Spectrum Updater Cable.
LiteRibbon Cine-Five: The most adjustable hybrid LED LiteRibbon available. The new revolutionary Cine-Five features cinema-quality 95+ CRI hybrid with the ability to add in crisp RGB color accents. This is achieved by using the single best-applied phosphor LEDs available in the industry. While Cine-Five is technically part of the Chroma family, at its core, it's LiteGear's most adjustable Hybrid LiteRibbon. Add in teal or magenta, or any color you desire to high CRI whites. You'll never have to worry about adding gels to your LiteRibbon again. Always feel prepared for anything a set demands as Cine-Five is never the wrong answer; it can be absolutely anything.
LiteRibbon Cinema Series: LiteRibbon Cinema Series is a line of flexible LED products similar to the VHO Pro offerings. Its main feature is it's Cinema "color-space" meaning that is output perfectly matches the thousands of LiteMat and LiteTile products currently available. The second most significant feature is a trait of the flexible circuit board that allows for simple and speedy connections between multiple lengths of LiteRibbon.
LiteTile Plus: The first foldable LED lighting fixture made completely with engineered textiles. LiteTile Plus allows the user to install thin, soft, and adjustable Kelvin light into areas previously inaccessible. Because LiteTile Plus folds up to 180º between each light engine, the luminaire can be shaped into numerous configurations allowing for 360º, two-sided, or irregularly shaped setups. LiteTile Plus can be directly attached to walls or ceiling surfaces such as office drop-ceilings with just spring-clips or tape
LiteBox: LiteBox is the perfect accessory for your new LiteTile+ Plus.  This modular system is designed so that you can mount your LiteTile to a lightweight rigid frame and then have the option of diffusing the LEDs at 1 inch (2.5 cm) or 6 inches (15 cm) away. LiteBox comes with the same three, familiar diffusers as LiteMat — so you can always integrate them together — and opaque fabric sides to eliminate spill light when used in the 6-inch deep version.  For rigging, LiteBox is surrounded by 1/4"-20 PEM® nuts and comes with an optional 5/8" baby pin adapter or grip head mounts.
You can also make an appointment by calling us at (818) 358-8542 to update your LiteDimmer Spectrum ballasts to the feature-filled Spectrum OS2 software. All of us at team LiteGear looking forward to seeing you soon!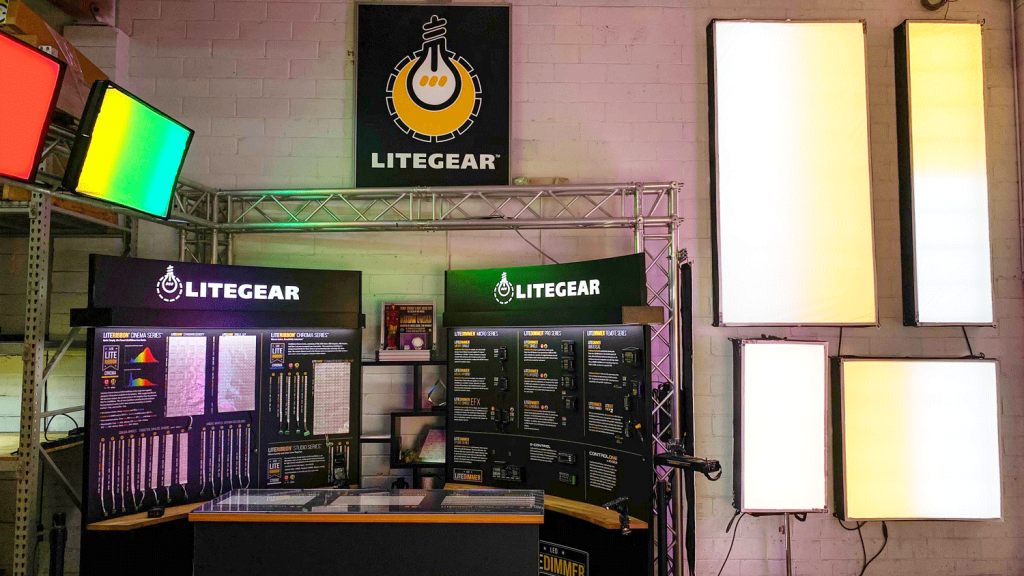 Burbank Showroom
4406 Vanowen St., Burbank, CA 91505
(818) 358-8542
For Appointments Contact us at info@litegear.com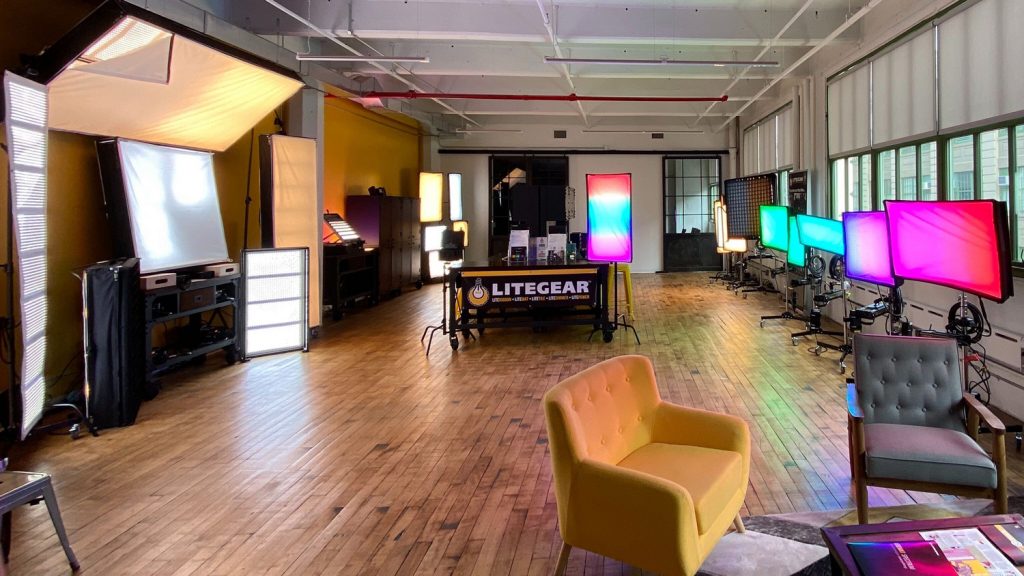 Brooklyn Showroom
68 35th St., 5th Floor, Suite 549, Brooklyn, NY 11232
(917) 423-6997
For Appointments Contact us at  info@litegear.com