LiteGear is proud to introduce Spectrum OS2, a brand new software update for LiteDimmer Spectrum Ballasts. The Spectrum OS2 software builds upon the unique functionality of LiteMat; thin, lightweight, rig-anywhere system, and provides full spectrum output that is a giant step beyond the traditional bi-color Hybrid systems by bringing improved stability, added enhancements, and new features.
Spectrum OS2 provides the tools needed to create your best work, making it easier than ever to adjust the CCT, accent color, and saturation parameters. "Spectrum OS2 is a giant leap forward for the LiteMat Spectrum products," says LiteGear CEO, Mike Wagner. He adds, "This is the first major software update that LiteGear is releasing for one of our products and it is truly amazing."
The redesigned interface is feature-filled and intuitive, making Spectrum OS2 standout from other dimmer systems available today. "I think people are really going to love it. The new user interface and innovative features make LiteMat Spectrum easier to use, adds greatly expanded DMX control for console programmers, and provides useful local control options," says Wagner.
Here are some of the new exciting features Spectrum OS2 has to offer:
Gradient Mode
Utilizing pixel control in Spectrum OS2, gradient mode allows control of up to 12 pixels by simply setting the first and last large format pixel. This can be done using just one or multiple parameters such as intensity, CCT, tint, saturation, and accent color. As if by magic, Spectrum OS2 automatically and in real-time averages the middle pixels to values in between the first and last pixels, creating gradual transitions of one or more parameters. Gradient mode enables users to create pixel gradients using local controls, which would typical only be possible via professional level DMX consoles.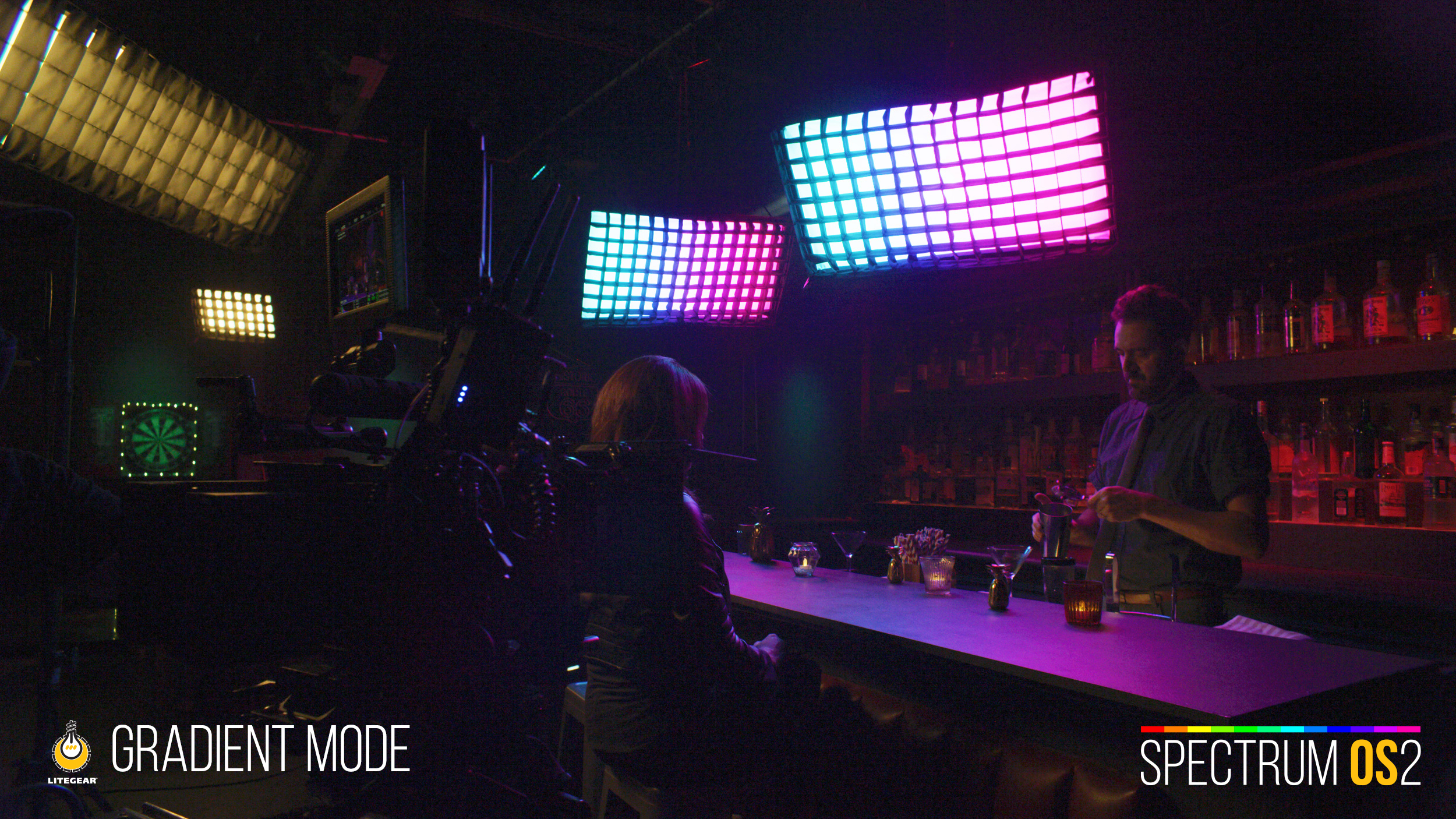 RGB via DMX
Spectrum OS2 includes 23 new DMX personalities which give massive amounts of control for console programmers. Among others, the RGB DMX personalities enables mixing of your own color via the console by either simple RGB parameters or with the option to set your white point. These modes make Spectrum a powerful pixel mapping fixture with all the physical advantages of a LiteMat.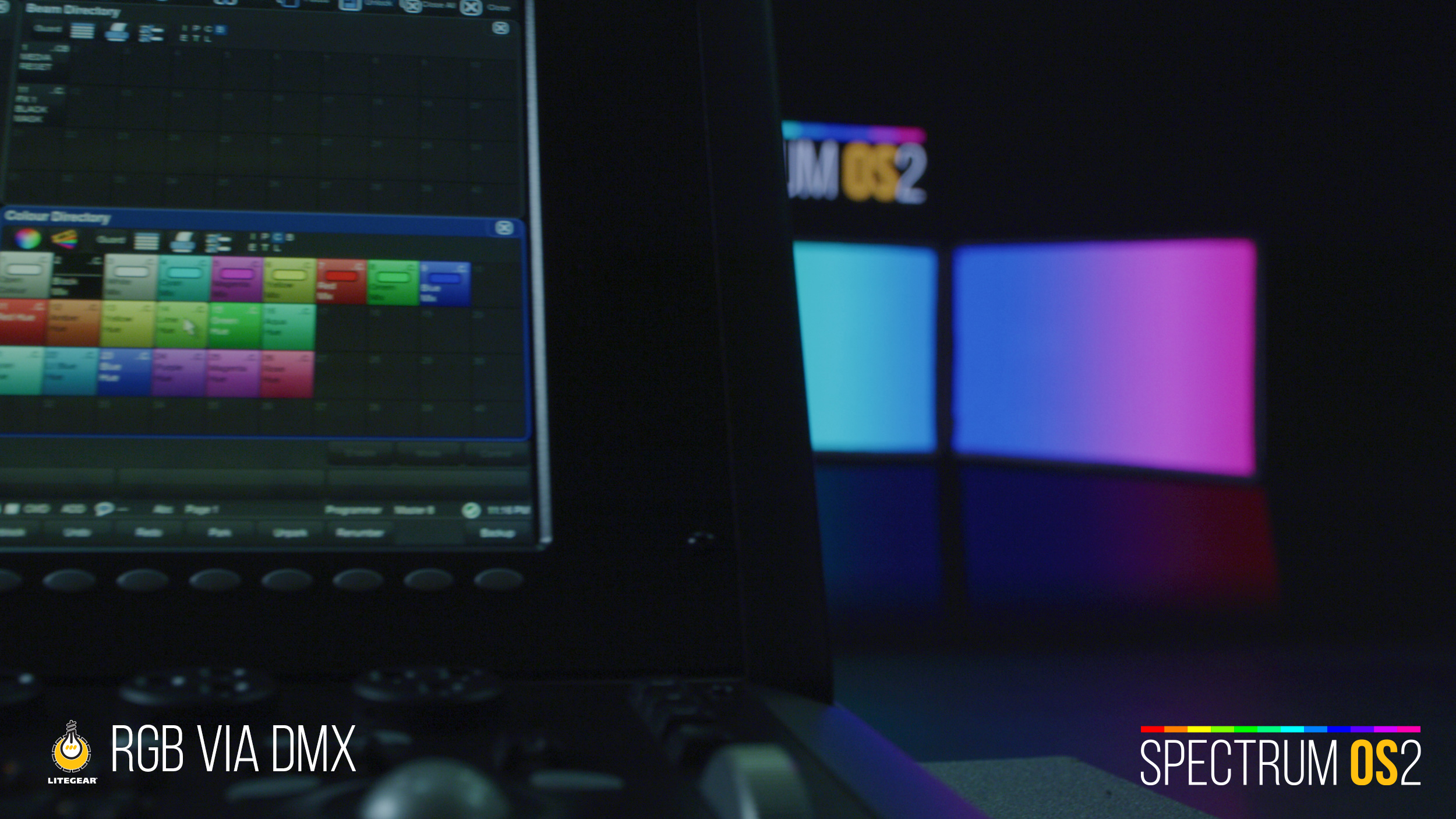 Cue Playback
With an emphasis on local and hands-on operation, the Spectrum OS2's Cue function places up to four "looks" at your fingertips. The Cue Playback function has the ability to records the entire output including intensity, CCT, tint, saturation, and accent color. Easily hold, bump and flash the output when the actor hits a mark or swap to a brighter look when the talent opens the door. The Cue Playback function brings powerful hands-on operation to the on-set lighting technician.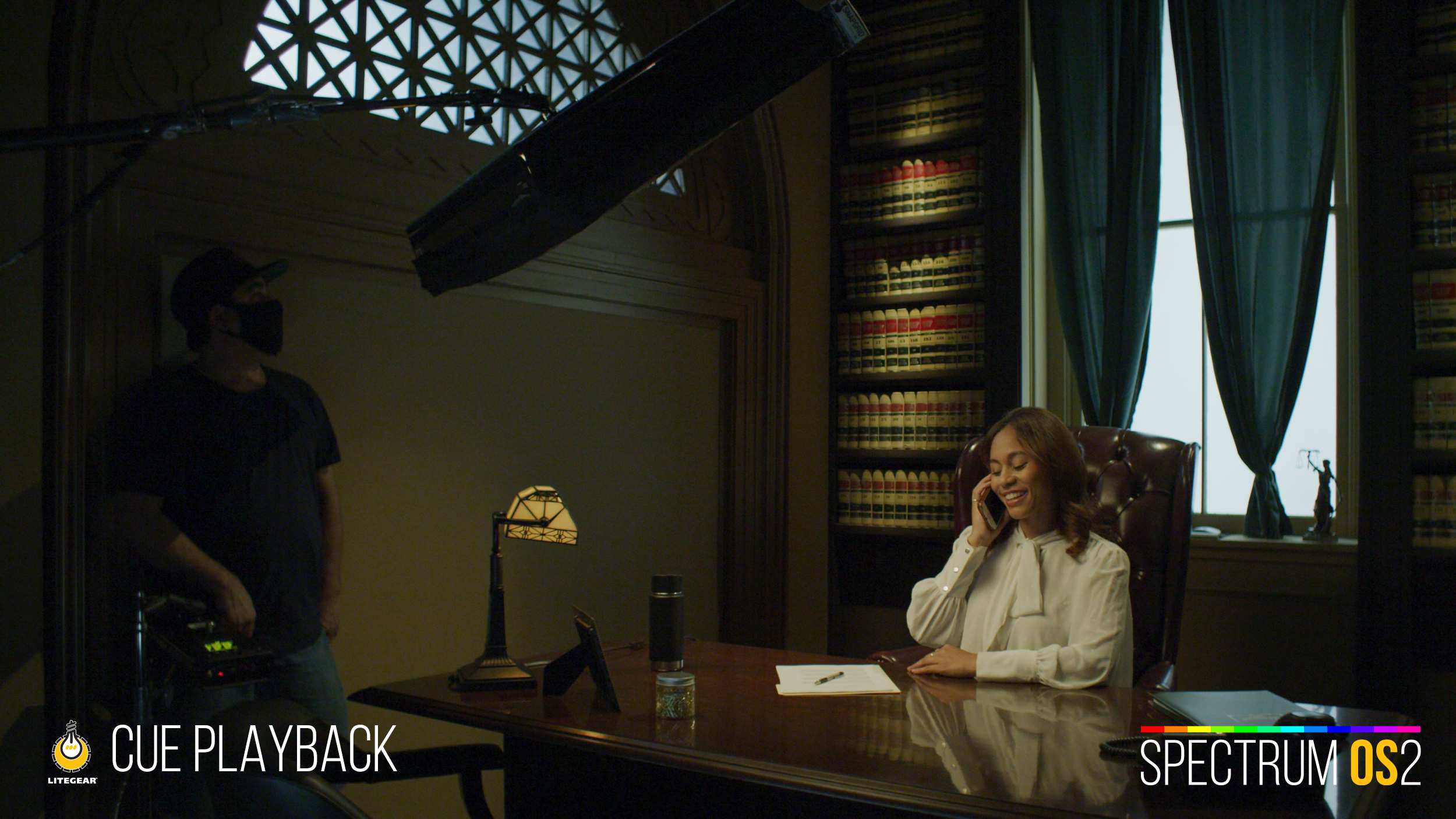 Parameter Presets
Parameter presets offers six pre-set values each for CCT, accent color, and saturation. Quickly select common color settings with the press of one button. Parameter presets streamlines the lighting workflow by eliminating scrolling through values. The user can also replace the factory parameter presets with custom selections.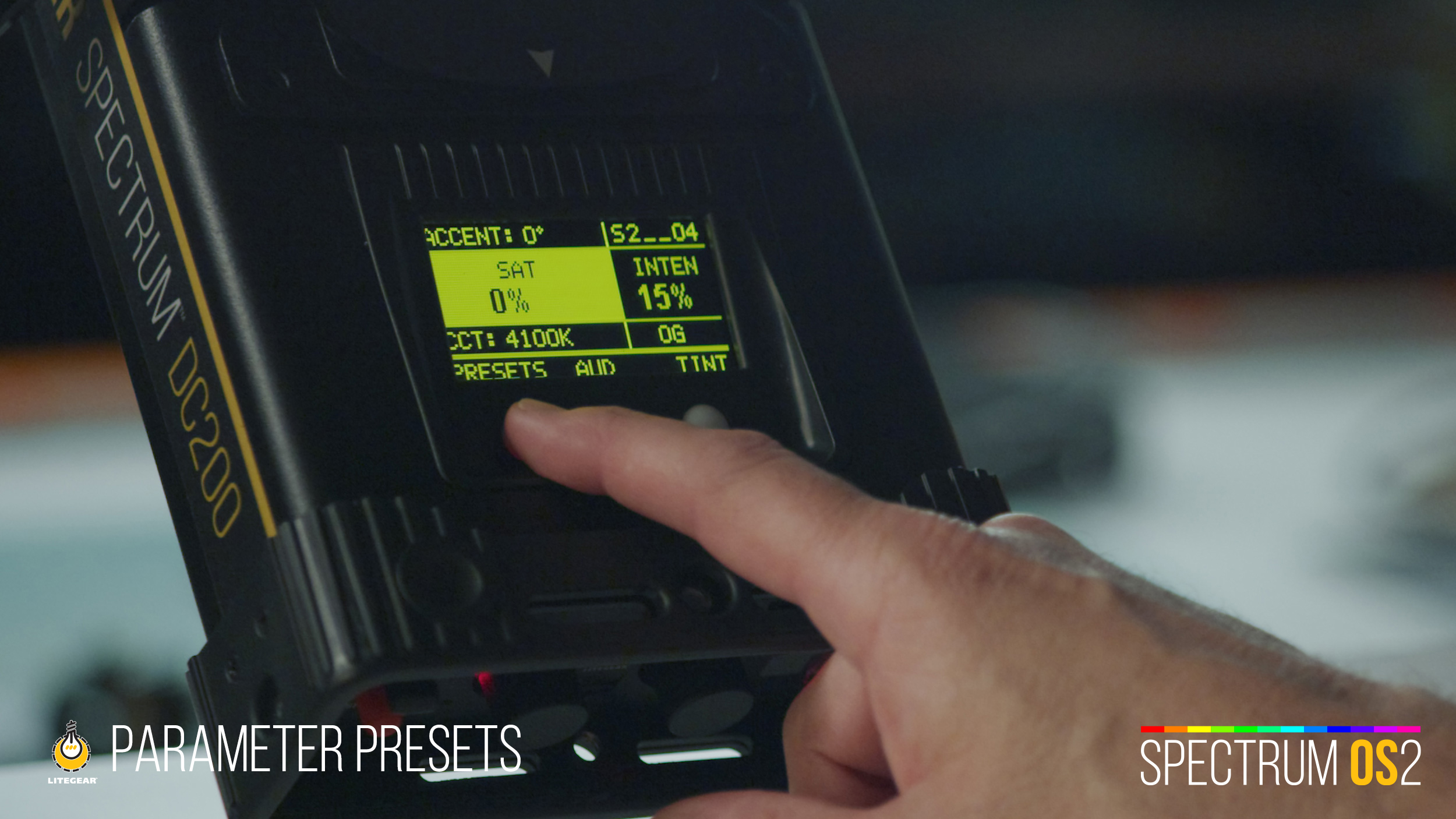 Audition
A simple yet effective feature, Audition allows the operator to easily turn the fixture output off and on with the press of a single button. Audition brings the common task of "sampling" a light's output into the hands of the user by turning the fixture off and on in order to gauge its effectiveness without having to change the current intensity or color.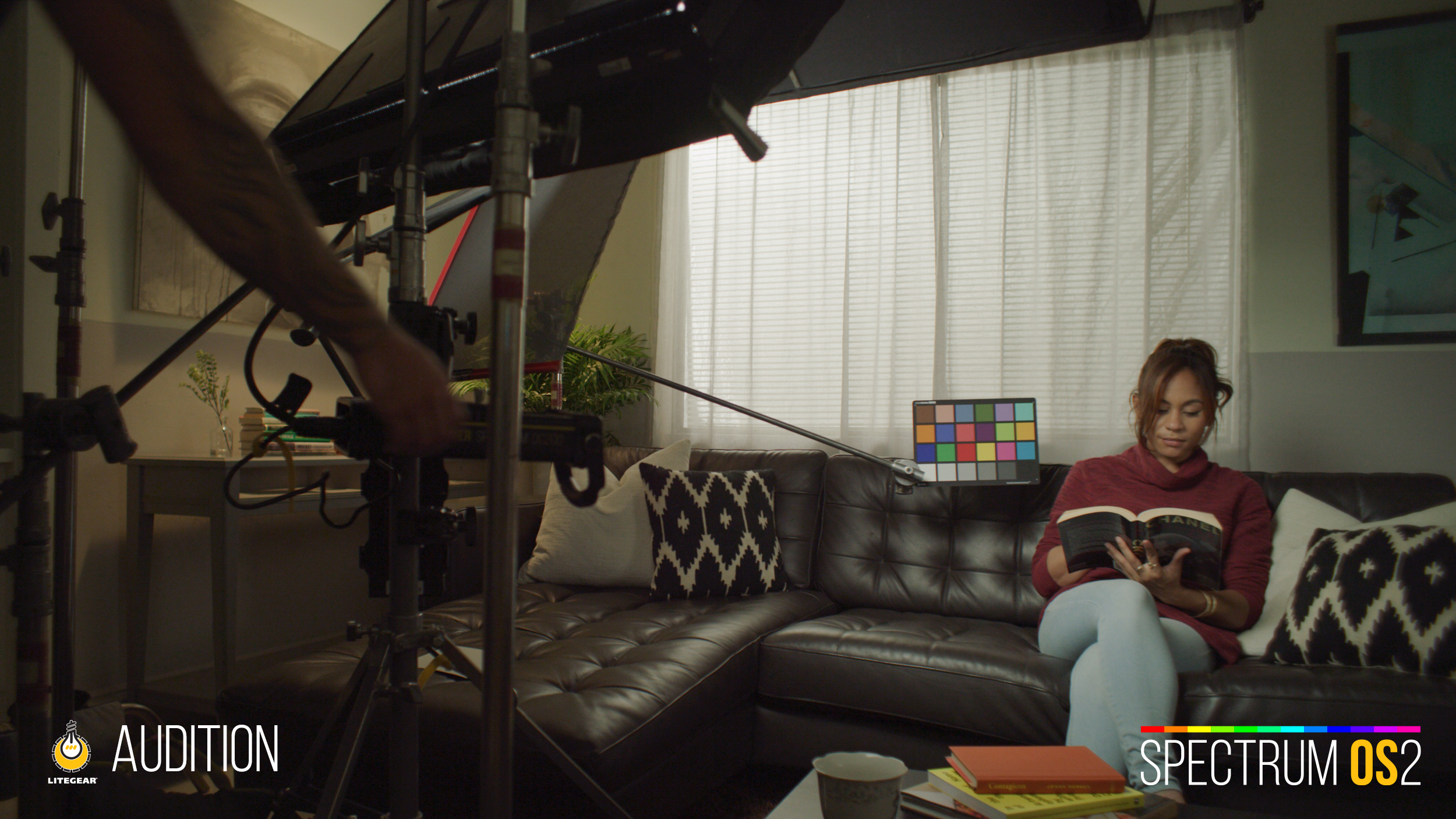 Nudge
Seamlessly adjust your light without ever looking at the screen. The Nudge feature allows the user to combine the use of encoders and screen-side buttons which gives a higher level of control and speed when adjusting parameters such as CCT, accent color, saturation, and tint. The audition and nudge feature can be used in conjunction for the ultimate set of light controls.
CurrentSense
Sometimes limits are a good thing and that is certainly true for CurrentSense. This feature is an intelligent power manager that looks out for you by allowing larger light fixtures to operate on ballasts with smaller power sources. CurrentSense is perfect for limiting the power from on-board batteries which may not be able to handle full power output of the fixture.
DMX Transmit Mode 
Spectrum OS2 has the ability to operate the ballast in local-mode while simultaneously outputting DMX signal to other Spectrum devices. Now one ballast can control many using DMX Transmit Mode. Up to twelve large-format Spectrum pixels, spread over multiple fixtures, can be controlled by one ballast using 5-Pin DMX cable or the built-in LumenRadio wireless.
RDM Implementation
Remote Device Management (RDM) allows nearly all settings of Spectrum OS2 to be accessed over DMX networks by compatible devices. Convenient for when the ballast is inaccessible.
DMX Streaming Monitor
When DMX signal is detected, the Spectrum ballast immediately switches to override its operation from local to remote control. With the switch down, OS2 shows live streaming data, often useful for troubleshooting.
Additional Enhancements
Additional enhancements include Improved Color Science and Tint Feature, Streamlined Menu Navigation, Ballast Status Visibility, Enhanced Low-Light Color Consistency, and much more.
"The LiteMat is already one of the most popular set lighting fixtures on the planet, but LiteMat Spectrum with OS2 will make it truly indispensable," says VP of Sales Paul Royalty.
Spectrum OS2 is available now as a free download. For more information, please visit litegear.com/spectrum-os2