WATCH NOW
We recently caught up with the veteran Gaffer, our very own Mike Bauman and discussed his work on Ford v Ferrari. Bauman has worked on several notable films such as
Vice
,
Phantom Thread
,
Conjuring 2
,
Inherent Vice
, and
The Master
.
Mike Bauman is no stranger to taking on blockbuster car thrillers. Nightcrawler, Transformers: Revenge of the Fallen, and Taxi are a few notable ones he's tackled over the years. Ford v Ferrari presented its own set of challenges for Bauman, beginning with the time period. "The film takes place in the 1960s, and Phedon Papamichael (the Cinematographer) wanted to stay very true to that look and feel," says Bauman. He adds, "We had to collaborate and work closely with the art department for most of the film." In addition to the time period, Bauman, his team, and the set decorator had another big challenge they needed to take on. "The film mostly takes place in Detroit and parts of Italy, and we were filming mostly everything in LA, so recreating the 60's looks in those locations was not easy."
Fluorescents were utilized quite a bit due to the time period, but Bauman was also able to use many LEDs throughout the film. "LiteMats, LiteTiles, LiteRibbon, Cream Source fixtures, and ARRI SkyPanels were all part of the lighting package." It was often more convenient to use LEDs in certain instances where fluorescents could limit the look the team was trying to create. "It all depended on the location and setting." Shooting at the rugged Ford factory or at the lavish Ford headquarters required two very different approaches.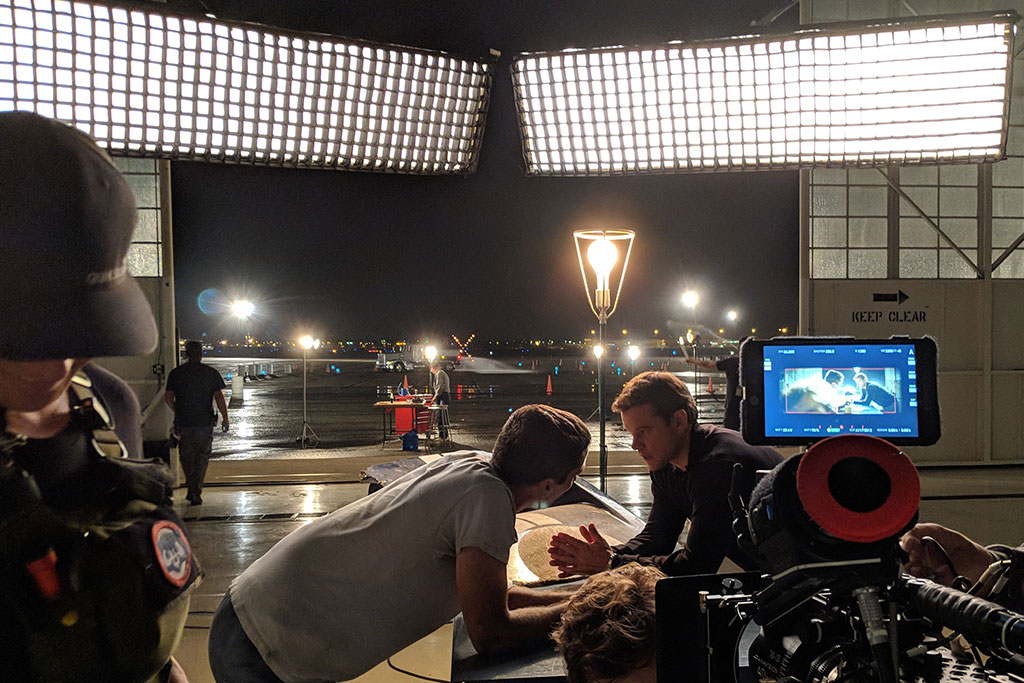 The Ford Factory was shot in a large warehouse in downtown LA. "There's a lot of challenges here because it's a very large space, and many of the scenes here took place in the daytime," says Bauman. Keeping the same consistent lighting in these scenes was tough for the crew, especially as it got darker throughout the day. The backside of the warehouse didn't let much light in at all, in fact, much of the light was being blocked by the businesses next door. So, Bauman's team ended up having custom versions of LiteTile made creating an array of multiple 10' x 10' sources. The result was an enormous 40ft x 60ft wall of light.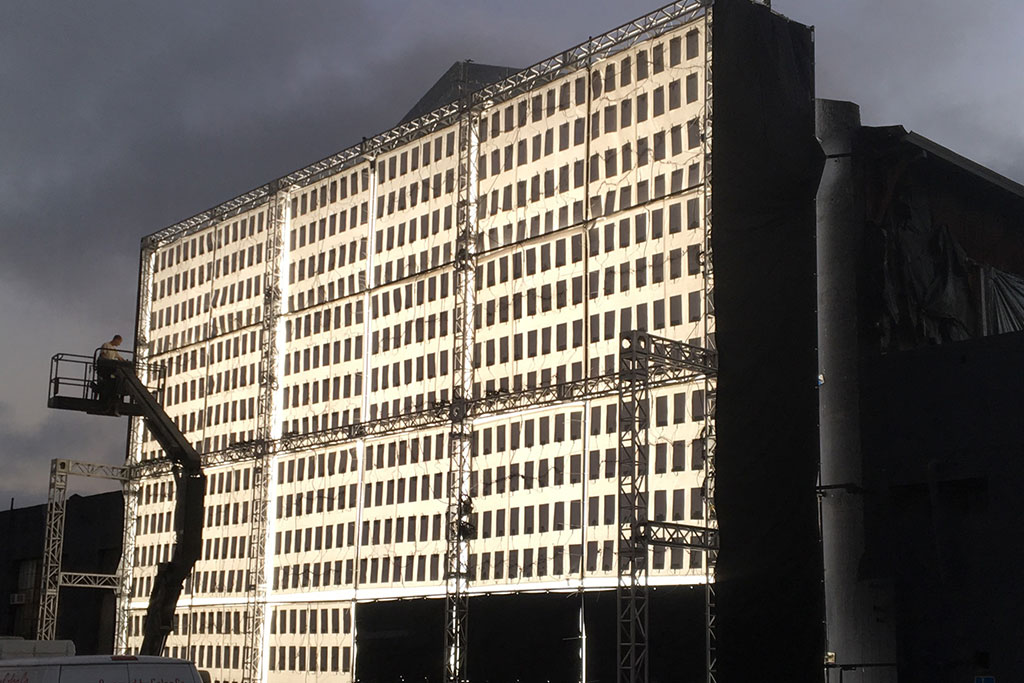 Ford headquarters was shot at the LA Times building in Los Angeles. "The look here was very Mid-Century Modern, very high end 1960's," says Bauman. Unlike the Ford Factory location, there was almost too much light here. There is a tremendous amount of windows in the LA Times building, and this is where he tends to be very conscious of reflections," he says. Bauman has worked in this location previously for other jobs, so he and his team knew of the window's sensitivity. "You can't use HMI's outside the windows because there is a strong chance they might crack," says Bauman. He adds, "the light hitting the window cannot be any hotter than what the heat the sun would bring in, so we ended up using ARRI SkyPanels outside the windows which worked great, and also used LiteTiles and LiteMats for the interiors."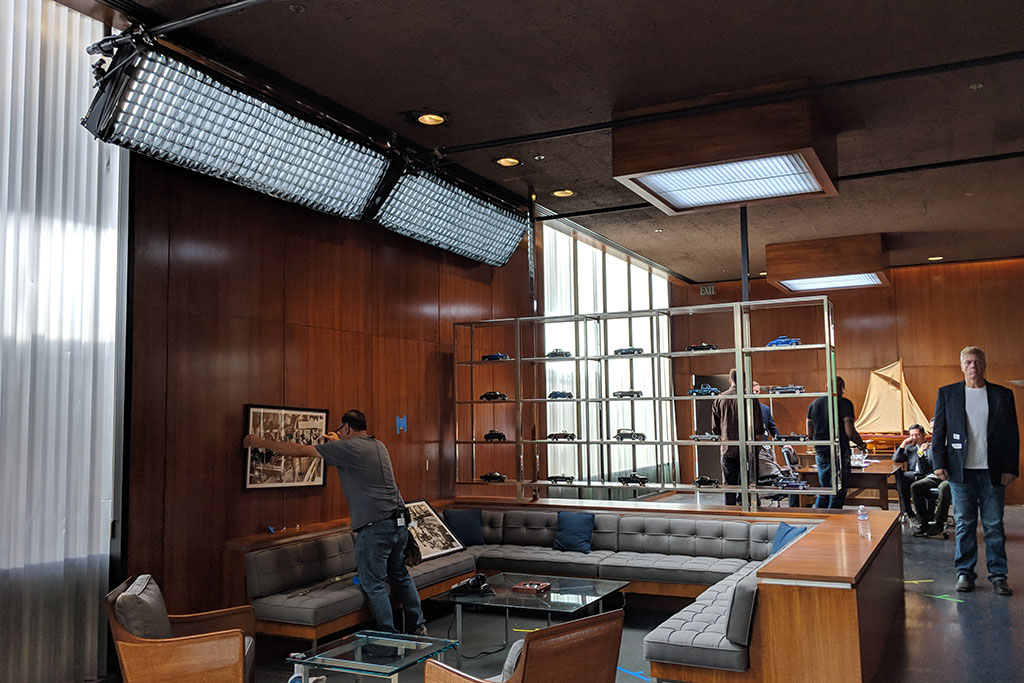 One particularly large scale set was shot at the Agua Dulce Airport. The team took over the airport for several weeks and used the runways as a racetrack. A 400 ft long three-story pit road was also custom built for the movie. "It was a really impressive set which had hundreds of fixtures in it that all needed to be controlled, so we could set levels and make adjustments," says Bauman.  Because the crew only built one section or side of the track, a tremendous amount a blue screen was utilized. The other side of the blue screen featured extended bleachers which were eventually added during post-production. "Creating this world was a challenge, and a lot of it was through light, as far as creating depth, and putting sources deep in frames and so forth," Bauman says.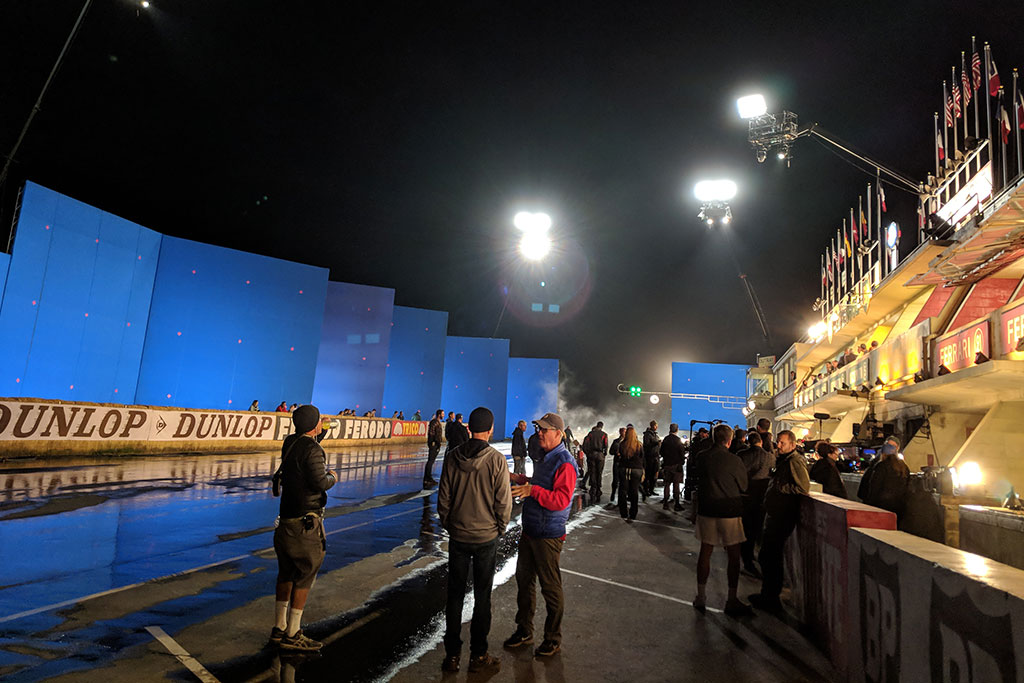 It was important for James Mangold (Director) and Phedon Papamichael (DP) to go as practical as possible when it came to shooting vehicle interiors. "To do this, we had a shop build custom cars, which gave them the spacing and flexibility to provide the right about of lighting that was needed," says Bauman. For daytime shoots, the team would often use Cream Source Micros for the interiors. The night work was a little different. "There wasn't much light, so we would use small pieces of LiteRibbon throughout the car just to get enough exposure on the face, and this helped immensely," Bauman added.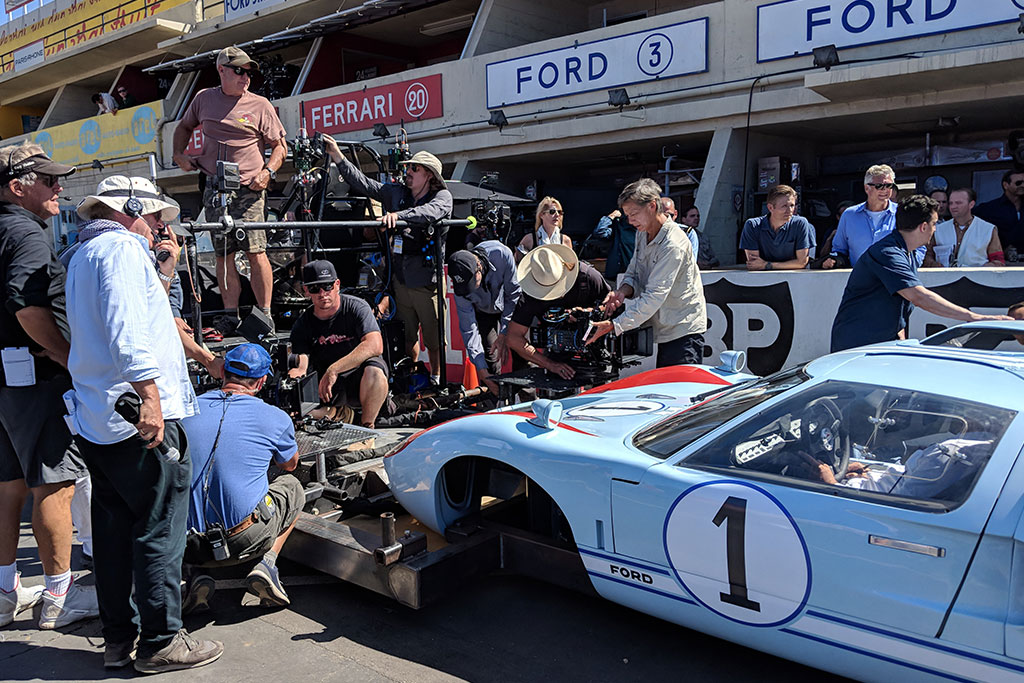 There is a diner scene that really stands out in Ford v Ferrari featuring the two leads (Matt Damon and Christian Bale). It features some of the most important dialogue in the film and was shot at Jim's Hamburgers in La Puente, CA. "It was an interesting challenge there, because there were these hanging fixtures within the frame, but we needed to have more of a generic light source but still have some direction to it. So, there was a small little alcove next to the window beside Matt and Christian that we ran about a 20 ft section of LiteRibbon on," says Bauman. You wouldn't be able to see it on camera, but it provided a very long, even source of light over the actors. This enabled the crew to run multiple cameras and capture different angles at the same time. Bauman was then able to augment closeups of the actors with softer sources. "Since it was a practical location, a lot of the sources had to be lightweight, and LiteMats and LiteBoxes became our go-to lights here."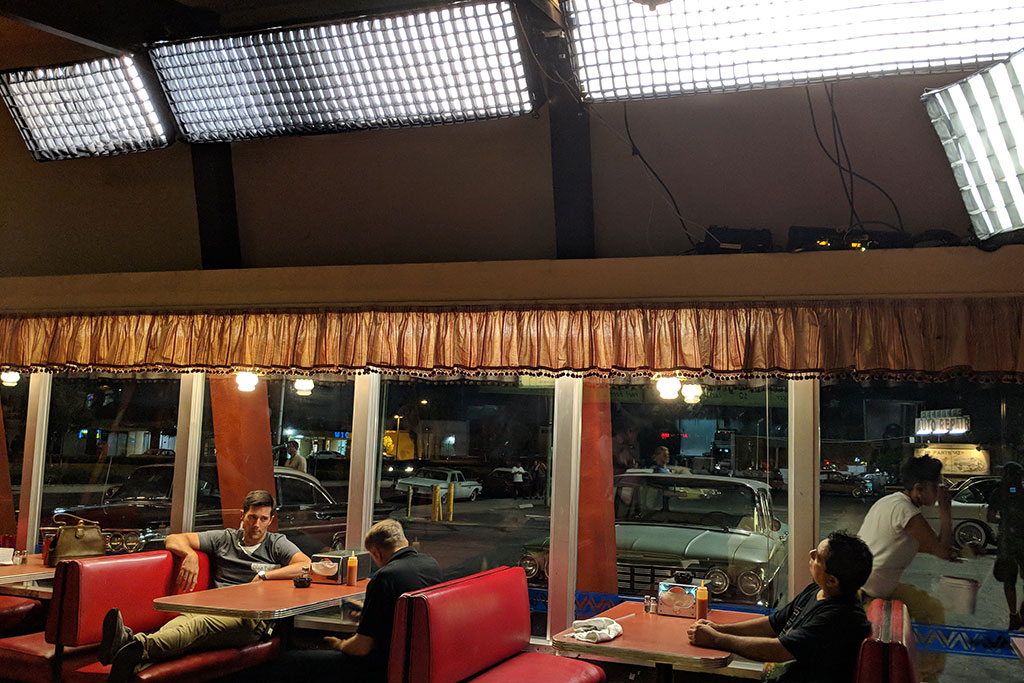 To view more information regarding some of the products used in Ford v Ferrari, check out these links: LiteMat, LiteTile, LiteRibbon.
For a deeper dive into the lighting behind Ford v Ferrari, check out our exclusive video interview with Mike Bauman.