We recently caught up with Cinematographer John Rosario to discuss some of his latest work on A Lot of Nothing. Rosario discusses working with Mo McRae, scenes from that film that stood out, and what's next for him. A Lot of Nothing follows James and Vanessa, who are ostensibly the perfect married couple; beautiful, successful, and smart. Their lives spiral out of control when they decide to seek justice against a neighbor they saw commit a crime on the evening news.
Was this your first time working with Mo McRae? What was this experience like compared to previous projects you've worked on? 
Yes, this was my first time collaborating with Mo. I met him in 2019 in Montgomery Alabama on the set of Son of The South. His Wife, Lex Scott Davis, was acting in the film and she introduced us. That was the start of a friendship filled with conversations about art, photography, and films that resonate with us. When I was brought on to work on A Lot of Nothing there was a foundation and familiarity between us that had already been set which helped us jump right into it with transparency and comfort. First-time Director and DP collaborations can be a lot of feeling each other out, learning what makes each person tick, but this collaboration with Mo was effortless. We inspired and challenged each other. We asked hard questions that extracted the essence of each scene which informed visual choices. EVERYTHING was important to us and every shot needed to have meaning behind it. There was absolutely no ego – just a space where we could express ourselves and create. As a cinematographer there's no better collaborator you could ask for. The experience of working with Mo on this film was incredibly fulfilling.   
What previous films served as an influence for the overall look you and the team were going for in A Lot of Nothing? 
We drew inspiration from an eclectic range of sources. No one film served as an absolute influence, instead, we collected shots that aligned with the language we were looking to speak. On day 1 of prep Mo brought out a maybe 200-page binder with images that spoke to him. Some weren't direct references for the film but maybe had a unique element to it that sparked conversation. We also shared pieces of music that inspired the flow and intention of certain scenes. These musical compositions aren't in the film but they informed a mood and an emotion we were looking for. There's one song Mo shared that influenced our approach to a specific moment in the film and upon hearing it I felt hope, tragedy, and delicacy all at once. We used these feelings in crafting the moment – I remember sitting at the monitor and the song playing in the recess of my mind.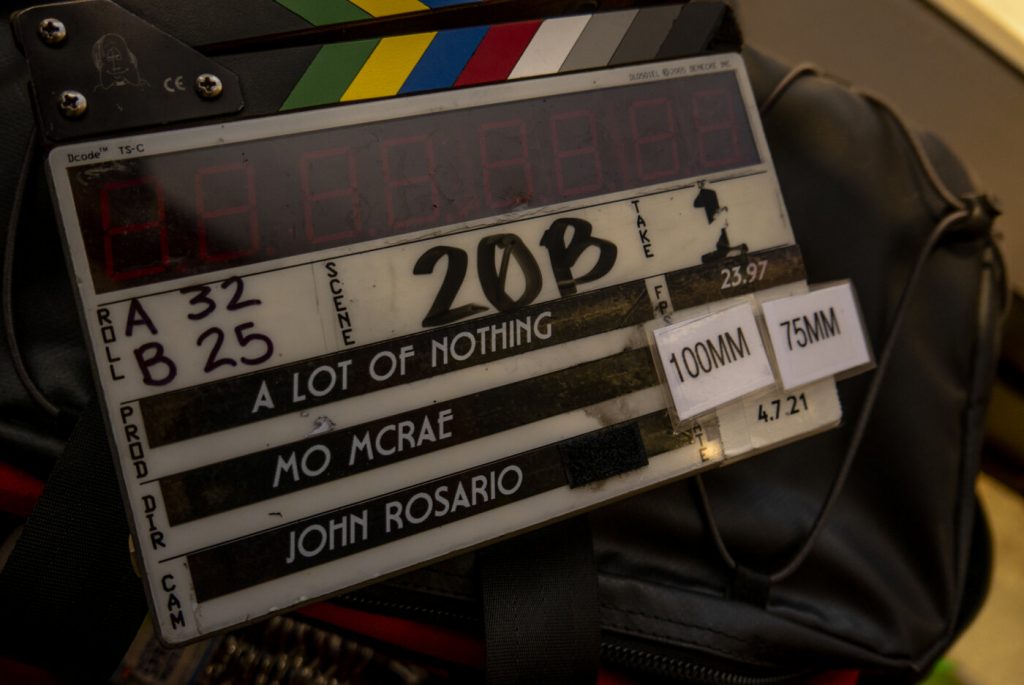 How would you describe the visual style/look of the film? 
One of the things we were hoping to achieve was that the film had it's own aesthetic and uniqueness about it. Where it didn't immediately look like any specific film. Mo and I both align with the idea that all shots are important and need a certain amount of subtext to them. We spent a good amount of time in prep coming up with the philosophy and motivation of our compositions and visual language. Understanding this fully before going into principal photography gave us a level of freedom and flow that created opportunities to discover unplanned moments that were in complete alignment with our intentions. The film is loaded with visual metaphors and even if the audience won't catch them all, they'll certainly feel them. A lot of it too was tuning in to the energy of the actors and allowing their performances to inspire. Towards the end of the film, there's a scene where James and Vanessa share a deep and complicated moment. There was something unique about their body posture that possessed me to take hold of the camera and integrate myself within the moment – totally unplanned. The shot felt right and appropriate and even excited one of our Producers, Inny Clemons, to play a composition of music over playback of the shot – chills ran down our spines. I believe the best way to describe the visual look of the film is bold, weighted, and edgy. 
The film takes place in LA. Was the entire film shot there? What are some areas you shot in? 
The entire film does take place in LA. The main location of the film was James (Y'lan Noel) and Vanessa's (Cleopatra Coleman) house. We shot on location at a beautiful home in Brentwood. It was incredibly spacious and we had the luxury of treating it like a stage. We set up grids in many areas of the house with wireless control to all of our units. This allowed us to move more efficiently and granted us extra time for little tweaks and discoveries. We also did some process trailer work all around LA but the one moment that sticks to me was when we were driving on Crenshaw Blvd. Mo looks over to me with a look full of gratitude and says, "when I was a kid, I used to ride the bus up and down Crenshaw, now, I'm riding up and down Crenshaw on a process trailer directing a movie." This had a profound effect on me. Every so often we should stop to reflect on the journey, as it'll make the destination ever so sweeter.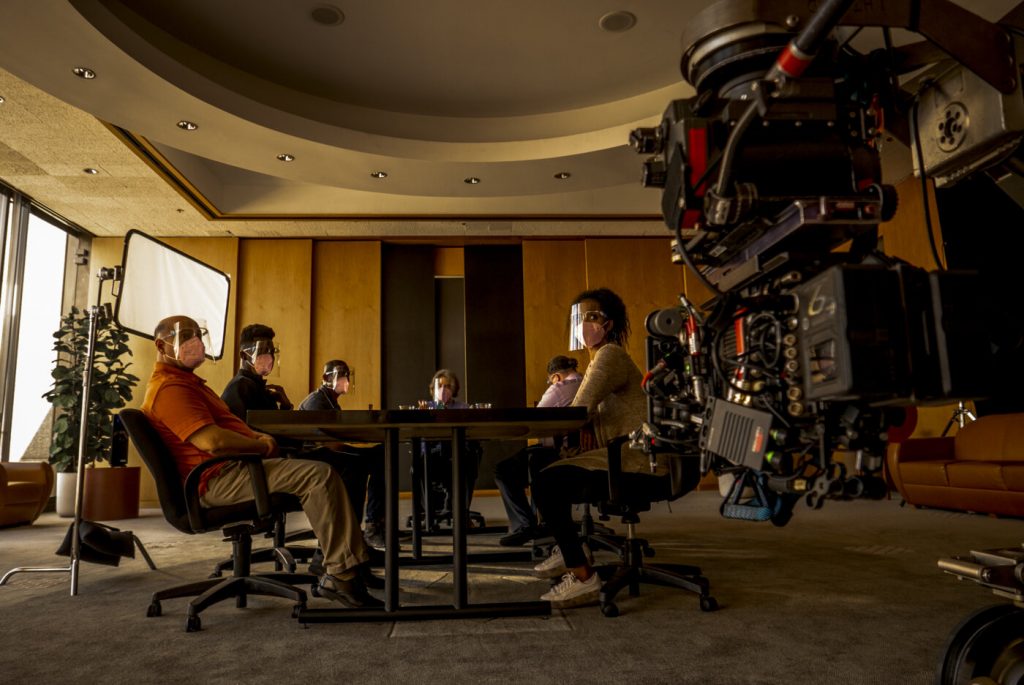 Are there any scenes that jump out that you'd like to discuss? 
The most challenging but rewarding scene to shoot was the opening of the film which is a 17 minute and 35-second oner with 2 actors, no hidden cuts, on a Steadicam. Mo wanted this fluid and uninterrupted feeling of James and Vanessa's conversation which motivates them to move through many parts of the house.
We didn't want to just simply capture this scene, we wanted to craft it in a specific way that reinforces the subtext of the scene and characters. We dissected every bit of dialogue and made choices on where the camera should be, how it should move, and who it should favor. This scene is a tug of war of emotions and the camera needed to reflect that. There's a moment in this scene where things become incredibly tense and I will never forget this but I'm sitting in prep with Mo and he goes… "what if we went handheld here without hiding a cut?". As if it wasn't challenging enough lighting, shooting, and planning a 17-minute oner, now we were figuring out how to detach the camera from the Steadicam as smoothly as possible to continue the scene. We called our A Cam / Steadicam operator, Aaron Gantt, who is incredibly talented, and explained to him our intentions. He and our equally talented Key Grip, Philip Collins, came up with a solution that required surgical precision from behind the scenes without interrupting the flow of the actors. As Aaron flowed throughout the house with the actors, Philip and I were hiding out of sight and when the time came, at around minute 14, we would sneak up behind Aaron and start the transition. It was a six-handed operation. Aaron would stiffly control his steadicam rig while maintaining the frame, Philip, in tandem, would detach the camera via a quick release plate and engage my easy rig to the camera, I would then take hold of the camera and push forward continuing the scene in handheld mode. A huge shout out to the whole camera department and to Aaron Cheung (A Cam 1st AC) for keeping the image sharp consistently. The sound department and art department deserve compliments too for dancing with us. Every department stepped up on this. I still can't believe we pulled it off.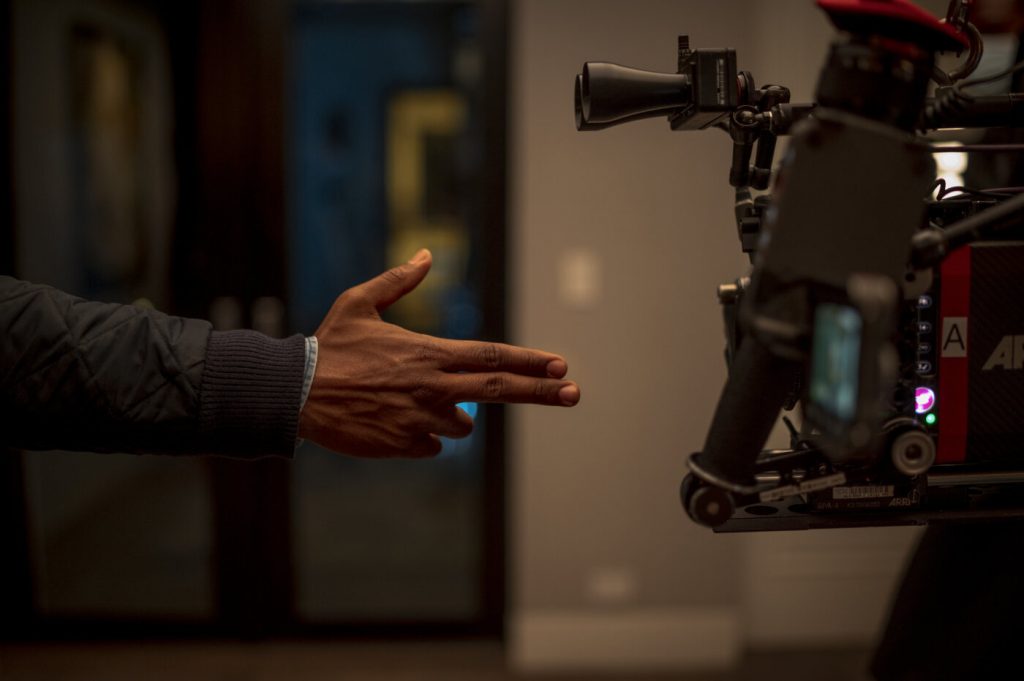 What's next for you? Can you share any upcoming projects that you're excited to be a part of? 
Mo and I shot a super-secret project a few months after wrapping A Lot of Nothing. I wish I could talk about it but it is still under tight wraps at this time. All I can say is lookout for it – it's completely different than A Lot of Nothing but with the same dedication to the image and story. I believe it will pleasantly surprise a lot of folks.
A Lot of Nothing will be premiering at SXSW 2022. You can read more about the film here. Keep up with John on his Instagram page!