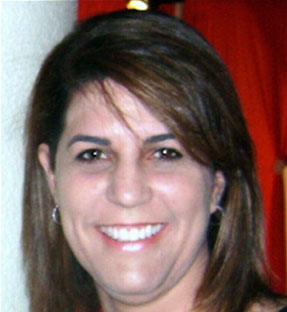 Throughout March we are featuring a series of discussions with some of today's most influential women in the entertainment industry. These artists talk about their journey into the industry, advice to young aspiring artists, and the art that has had an impact on their work. This edition features writer/director Sheri Sussman (One Night in Hollywood, The Second Opinion, and Call Back.)
When did you become interested in working in film? What made you want to get into the industry?
I have always loved movies and writing ever since I could remember. It became a reality when I was 18 and received a scholarship to Ohio University for Journalism. It was around that time I had made the switch to focus on screenwriting rather than journalism.
What advice would you like to give young aspiring directors/writers?
Just do the work. It's so corny, but it is really what I try to do. I am fortunate enough, more than some and less than others, to always have been working on a project. Whether it is a script for hire, spec script, short film, I just keep doing the work. I'm lucky to still love writing and making movies.
You have directed, produced, and have written a number of projects. What do you enjoy doing the most of the three?
Writing. I'm a writer through and through. I've written over 50 feature scripts – spec and writer for hire, and I make films just to get my work seen as well as love doing it! But, I love directing and have the utmost respect for directors who know the craft far better than I do. I love working with actors and cinematographers. I love the whole process of actually making the film from blank page to final cut.
You directed, produced, and wrote One Night in Hollywood. Could you tell us a little about this film? What was the inspiration for this?
I wrote a feature that's a satire making a bit of fun of all of us on the "fringe" side of Hollywood. This is the majority of Hollywood – people making an ok living but nobody has or may ever hear their names. We were raising money for the feature so decided to do a short to gain interest. Ian Buchanan, Rick Peters, Kyle Kaminsky, and Markus Reyman were kind enough to do it and are attached to the feature. As well as up-and-coming and veteran actors such as Olivia Hussey, India Eisley, Billy Wirth, Jimmy Wirt, etc. I've always had really good luck with short films furthering my career in some way and meeting new talented people to work with.
Growing up, did were there any inspirational people in the industry that have inspired you?.
I was always inspired by filmmakers like Stanley Kubrick, who created films that must have been difficult to get green-lit and were brilliantly original. They stayed outside the box a bit, yet were still hugely respected and successful in the industry.
Within the industry, I've been ridiculously fortunate to have mentors behind the scenes since I first started when I was 18. Earl Lestz (Former President of studio operations at Paramount) and Paul Haggar (Former President of Post Production at Paramount) were friends with my step-father and they are the reason I've been able to work with the top talent behind the scenes all these years for my indie film projects. They taught and inspired me to make films the best I could even if they were only 10 minutes long. I have a deep respect and affection for everyone who is part of the process of making the films and super grateful. I've been really lucky to have such kind people's support in the industry who help me put a film together at my level in the business.
What are some of your favorite films? Have any of these films influenced your work?
I love the old films that are story, character, and dialogue-driven. I like all great films in all genres. Jacob's Ladder, Butterfield 8, Splendor in the Grass, A Clockwork Orange, The Misfits, The Deerhunter; Days of Wine and Roses, Save the Tiger; Quadrophenia, Sunset Blvd (cause who doesn't love that movie?!)…But, honestly, I have hundreds of favorite films.
Could you tell us about a show or project you are currently working on?
I am in post-production on a new short film I just wrote/directed and produced called, Shutter the Doors starring Ian Buchanan and Billy Wirth. We shot it last month at The Mint in one day completely Covid safe. It is an Arthur Miller-inspired piece that has this old classic feel to it. And my cinematographer is a super talented young man, Justin Janowitz, who I've known for years and we always talked about wanting to work on a film together. So, it came together in a few weeks and it was an incredible experience all the way around. I've wanted to write a role for Ian Buchanan, who I think is just a stunning actor, (and person!). So I've had this idea of an opening scene of him sitting at a bar with scotch for years! A bit of Ray Milland in "The Lost Weekend". And Billy and I have worked together on five films and I've always want
ed to write a different role than he's usually cast in for him as well – a role as I see him on screen. We will be done by the end of April and see how it plays to an audience. I had an amazing time doing it nevertheless!
Spiral Gate Productions is Sheri's production company.
"It's just me and an amazingly talented young producer, Adam Rex, who I met at Paramount over ten years ago and always wanted to produce films with him. He's super impressive and he started in the mailroom – old school hard working great guy! He went on to be production coordinator on shows like NCIS LA. He's produced the past few short films I've done and we're hoping to get financing for one of two features I wrote this year – One Week in Hollywood and/or Little White Lies which is an indie about one brother trying to save his younger brother from addiction. A bit like Requiem for a Dream and Trainspotting."
You can catch Sheri's latest work in Nowhere to Go. Keep up with Sheri on her Instagram @spiralgateproductions.
The image below is from Shutter the Doors just shot March 21st at The Mint LA with actors Ian Buchanan and Billy Wirth.
"My DP Justin Janowitz shot on Arri Alexa Mini with Cooke anamorphic lenses. This was a one-day shoot of a short film I wrote and directed. It was produced by Antonio Cortese and Adam Rex for our company Spiral Gate Productions."