The Veteran Gaffer Entered Familiar Waters as he Dove into the Latest UnbreakableInstallment, Glass
When Chief Lighting Technician Ryan Lynch was asked to come back for the follow up to 2017's Split, he jumped at the opportunity and was thrilled to reunite with Director M. Night Shyamalan and DP Mike Gioulakis. Being his second rodeo into the Unbreakableuniverse, Lynch was excited to tackle new challenges and jump through the hurdles Glasspresented. The scope of the film was significantly larger than its predecessor. Bruce Willis' and Samuel Jackson's characters making their way back into the franchise opened the doors to many expansive sets and mysterious backdrops. Creating a next installment to a critically acclaimed franchise may seem a bit overwhelming, but with Shyamalan at the helm this would not be a an issue.
Shyamalan made it seem as if the film just happened to be a sequel to Unbreakable and Split."Night has a really specific way of not getting too far ahead. He never made it feel important that we were making an Unbreakable sequel," says Lynch. He adds, "There was not pressure that we needed to make anything other than the film we were making."With that said, Lynch and Gioulakis were at ease handling the lighting approach of the film the same way they always do– light each scene as naturally as possible.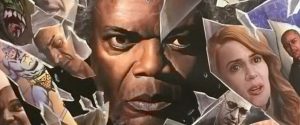 Gioulakis prefers a clean look so other than some sodium vapor at night, the team rarely used anything too strong or stylized. "Bounced sources are our main go to regardless of set or location and it was not different for Glass. Since the hospital had many fluorescent fixtures we continued that idea with the sets built on stage," says Lynch. The Art Department even went so far as to borrow fixtures from the hospital to build into the set for continuity.
The crew still uses a fare share of traditional tungsten light, though they have been mixing in more LED options of late. LiteBoxes came in handy, mainly due to the light-weight and easy-setup aspects of the product "I usually build one of my 4×8 LiteBoxes onto some rolling stands and would often use that as a quick source, usually through a 12x muslin," says Lynch. He adds, "I also put a 2×8 LiteTile on a rolling stand and draped it with magic cloth and muslin to use as a camera fill every once in a while." All three main observation rooms in the film were built on stage and had 10×10 LiteTile boxes with heavy diffusion hung above them on chain motors. "They provided simple room tone as needed," adds Lynch.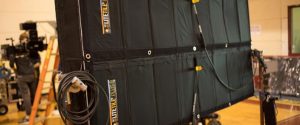 The team also took advantage versatility and convenience LiteMats provided. "We used LiteMat+ Plus 4 and LiteMat+ Plus 2L units as simple rigged lights in any number of places, though mostly over head to provide room tone when needed. Battery powered 2Ls were a simple go to for small spaces." Battery power compatibility was crucial, especially when the crew shot on location.
Lynch and crew did much more location work on Glassthan previously with Split. A large chunk of the film took place in Philadelphia during the first couple of weeks. "Almost every day was a different location and we didn't have lots of time to fully pre-rig everything so simple solutions were always our first choice," says Lynch.One of the bigger challenges for the crew was shooting in and around 30th Street Station. "Like Split, we shot there for just one day but this time around we had four main locations. Moving quickly in a huge place that can't be shut down presents all kinds of logistical challenges," says Lynch. He adds, "We had to work around train times, peak travel times and short daylight hours." It was a long day for the team, but they pulled everything off that Shyamalan and Gioulakis wanted.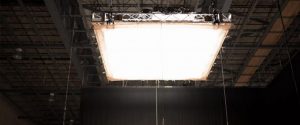 This is looking to be quite an exciting year for Lynch. Glassopens Friday, January 18th. He also worked on Jordan Peele's second directorial feature, Us, which opens March 15th. Currently he's back in the Philadelphia area and is excited to be working with the Glassteam (M. Night Shyamalanand Mike Gioulakis) again on a newproject for Apple. The plot is currently under wraps, but is due to hit Apple TV at some point this year.
Check out the trailer for Glassbelow.