Knight Discusses What It's Like Teaming up with the Moonlight Team Again, and the Challenges of Adapting James Baldwin's Novel to the Big Screen
As we dive deeper into December, award season looms upon us! It's time to head over to the theater, grab a large popcorn, and let the Oscar buzz begin brewing! One film garnering early praise is Annapurna Pictures' If Beale Street Could Talk, an adaption of James Baldwin's 1974 novel of the same name. If Beale Street Could Talk reunites the team of 2016's Oscar winning Moonlight: Director Barry Jenkins, Cinematographer James Laxton, and Chief Lighting Technician Kiva Knight.
Knight felt right at home reuniting with the Moonlight crew. "It's a great experience working with that team, and it may sound cliché, but they are like an extended family to me," says Knight. He jokes, "If I have the privilege to keep working on these amazing projects I might just push my retirement back." There was heightened sense of expectation for the crew on this project, not just because of the success of Moonlight,but also because they were working on a celebrated James Baldwin masterpiece. "It made everyone dress a little nicer, work a bit harder and expect more things from themselves and each other," says Knight. The crew had a shared mindset of challenging themselves to elevate their game.
Tackling the aesthetic of the film would make for a much different approach than on Moonlight. James Laxton wanted there to be a level of refinement present in the lighting. "Beale Street's lighting style is Romantic Vibes Level 3, I think the lighting has a refined quality to it but it also has a throwback classical vibe to it– we like that," says Knight. The crew looked for ways to formulate an affectionate lighting ambiance that would visually push the romance in the story.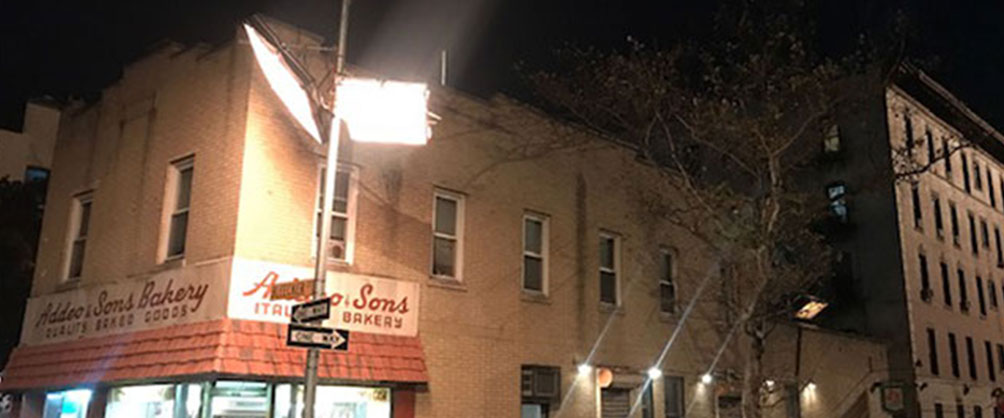 Laxton comes up with the game plan for the lighting approach ahead of time, but the team also lets spontaneity in the field affect the plan in interesting ways. "An example of this would be a sequence that took place in a Brooklyn warehouse. Barry Jenkins really liked the light coming from these really amazing windows. Laxton and I came up with a diffusion design based on the profile of those windows and I shot a sketch over to The Rag Place. They fabricated custom rags for all of our LiteTiles based on those windows. It's stuff like that that keeps the process fresh," says Knight. LiteTiles didn't exist when filming Moonlight a few years back, and having them around on this shoot really benefited the team and helped them get out of some tight spots. For most exterior scenes, Knight and crew rigged multiple LiteTile 8's from street lights and fire escapes. Interior sets throughout the film featured LiteTile 8's used as soft top lights with just the right amount of punch.
Improvising in unique locations would be a recurrence throughout the shoot. Knight would often use a custom LiteRibbon Jemball on a fishing pole for walk and talk sequences in the film. His favorite set consisted of the team using LiteTile on-the-fly in a vaulted ceiling on location in Harlem. Says Knight, "Production Designer Mark Friedberg installed a vaulted ceiling, and we hung the LiteTiles in between the beams. Key Grip Brent Poleski then added layers of Muslin and skirted the rig," There was a sequence in this room which involved a ten page dialogue scene with 8 actors that took place over two days of shooting. "Laxton wanted a lighting plan here that involved very little work from the floor to be efficient. Brent gave us a ¾" square stock 4×4 frame that he skinned with 129 diffusion. We then velcroed Muslin on top of that–that was the only fixture we brought into the room during that scene-low profile, soft and effective, very nice," says Knight. Creative setups like this helped illuminate the James Baldwin's world and visually tell his story in a captivating way, which is exactly what Knight, Laxton and Jenkins originally had set out to do.
The crew is looking forward to what should be an exciting and advantageous award season. As for what's next for Knight– lately, he's been keeping himself busy with a number of commercials, and hopes to reunite with the "Beale team" for their next endeavor. You can follow him on instagram @kivaknightrider for the personal jazz and @steelhip for business inquiries.