Throughout the next few weeks we are featuring a series of discussions with some of today's most influential Hispanic Cinematographers and Chief Lighting Technicians. These artists talk about their journey into the industry, advice to young aspiring artists, and the art that has had an impact on their work. This edition features Cinematographer Emilia Mendieta Córdova (Code_Switch, To The New Girl, and Hotel Refinement.)
When did you become interested in working in film? What made you want to get into the industry?
I'm one of those "I've always wanted to be a filmmaker" people! I've always been a storyteller, but the moment I realized I wanted to be a filmmaker boils down to when I was 8 and my dad borrowed a projector and screened the original "Star Wars" trilogy onto the wall of our house. It just blew me away. And at that moment I just knew – it's what I wanted to do with my life. I wanted to tell stories in that way. I also knew that it was going to be an uphill battle in many, many ways but that never really deterred me. I just enjoy the process itself – I love collaborating on a creative project and telling a story visually.
Describe your journey in becoming a cinematographer, as well as your experiences at AFI. What was the process like for you?
I was hell-bent on being a director until I was 24. I was working for a tea start-up in Brooklyn as their in-house videographer and graphic designer and in the Spring of 2013 they sent me down to the Ecuadorian Amazon to get some video of their operations there (the tea they sold is native to the area!). So I found myself hiking through the rainforest trailing a Peace Corps Volunteer and a Guayusa farmer with a camera strapped to my chest. I realized then that I didn't know enough about cinematography to capture the incredible beauty around me and then it struck me – what I loved about filmmaking was the visual storytelling aspects of it. More than anything, I loved creating the actual image and crafting it to tell a story. So I got back to New York, applied to AFI, quit my job, and moved to LA. The rest, they say, is history!
As for my experience at AFI – it was transformative. When I went in I felt overwhelmed – I felt eons behind many of my classmates, most of which had a lot more experience as cinematographers than I did. I came out the other end comfortable in my skin as an artist and confident in my skills as a cinematographer. I grew so much as an artist and as a person in two years. It was challenging in many, many ways but I love a good challenge! While at AFI, I allowed myself to explore and take creative risks. Sometimes they didn't work out the way I wanted them to, but that's also what allowed me to grow. That's one of the best pieces of advice I got from an alum – people sometimes get hyperfocused on producing "the best" or "the perfect" film but film school is a great testing ground to take creative risks and figure out what works and what doesn't! I also feel like I made some really good friends there – I learned so much from them while in school and continue to learn from them and their experiences. They're a great support system professionally and personally – they've been there for me through thick and thin and we continue to support each other as we chug along! As for my teachers – Sandra Valde and Stephen Lighthill, ASC in particular have been immensely supportive mentors both during and after AFI. My relationship with them inspired me to pursue teaching opportunities (I've worked as a Professor at USFQ and UDLA in Ecuador and worked as the AFI Cinematography Coordinator for two years) that have been enriching. 
How has your background inspired your work?
My background is kind of unusual – I'm Ecuadorian-American having been born and spent the first five and a half years of my life in Wichita, Kansas but spent the rest of my childhood and teenage years (until I was 17 and left for college) in Quito, Ecuador. My American-ness made me a bit of an outsider growing up abroad, but my experience growing up abroad definitely sets me aside here in the US too. A lot of the questions I've been asking myself since a very young age center around what it means to be American in Ecuador and what it means to be Latinx and Ecuadorian in the US. Because of this, I'm really drawn to stories that explore identity, culture and belonging especially when it comes to what that means in an increasingly globalized and tumultuous world. The other big thing that I'm drawn to is stories and media about food – food is so central to my family and the way I grew up. My dad was the dean of the school of culinary arts at a university in Ecuador while I was a teenager, so I spent a fair amount of time in professional kitchens or around chefs. Food evokes a lot of emotions in people and it can be both an art form and an expression of the culture that created it.
Describe your experience working in Ecuador. Have you gone back since to visit? or film?
I usually go back at least once a year to visit for the Christmas holidays since my family still lives abroad (the exception being 2020 because of the pandemic!), but yes, I have worked in Ecuador. I spent a year right after college working as a 2nd AD and AD in the commercial world there. I later spent all of 2016 as a Professor teaching Cinematography, Digital Image Workflow, and Image and Sound first at UDLA (Universidad de las Américas) and later at USFQ (Universidad San Francisco de Quito). While I was there I did shoot a few shorts and a couple of short documentaries. I'd love to shoot a larger or longer project there too – there's a bunch of really talented filmmakers emerging from there and it is a country that boasts some breathtaking landscapes and very rich stories and legends. You've got the Rainforest, the Andes (tundra), the cloud forest, the beach, and the Galápagos all crammed into one little country!
What advice would you like to give young Latinx / Spanish aspiring Cinematographers?
I think the same advice that I would give young/aspiring women cinematographers and then add on to join as many filmmaking Latinx/Spanish-centered groups as possible. I was invited to join the Chicana Directors Initiative a few years back and I've found that they're an incredibly supportive group focused on promoting and enhancing the visibility of latinx/latine filmmakers and artists. The group leadership has done an awesome job of organizing workshops, mentorship programs, providing resources for grants and other opportunities for growth, and promoting their members. But in that same line, just connecting with other latinx/latine filmmakers in general. One of the projects I'm currently most excited by is being developed by a fellow Ecuadorian-American who literally found me by doing a google search for "Ecuadorian-American filmmakers". There's a big community out there, so definitely reach out!
Growing up, did you have any inspirational Directors, DP's, Gaffers that have inspired you. 
My first OG filmmaker inspiration was George Lucas – I'm just inspired by all of the technological innovations in visual storytelling prompted by the stories he was telling and worlds he was creating. The incredible thing is that legacy of pushing the technological boundaries of filmmaking is still present in a lot of "Star Wars" projects such as The Mandalorian – which has been a trailblazer in both the creative and technical fields of visual storytelling. As for gaffers, I'm a huge fan of Jim Planette since I realized he gaffed a lot of my favorite films growing up. Michael Pessah, ASC, who taught History of Cinematography at AFI, brought him in as a guest lecturer for a class on E.T. and Planette describing his approach to lighting a lot of the scenes was, well – pardon the pun – truly enlightening! Currently, some of my favorite DP's are Mandy Walker, ASC, ACS, Rachel Morrison, ASC, and Steve Yedlin, ASC – I just have massive respect and admiration for them and their work.
What are some of your favorite films? Have any of these films influenced your work?  
Overall I love Sci-Fi that has a dark/dystopian bent to it like The Thing, Blade Runner, eXistenZ, Ex Machina and E.T. (E.T. gets dark!!!). In the TV realm, I gravitate towards shows like The X Files, Fringe, Black Mirror, Firefly, and Stranger Things. But my absolute favorite film is Star Wars: The Empire Strikes Back. That veil of film magic is still there when I watch it. I forget I'm a filmmaker, and I just let it take me for a ride. That all being said, I'm just going to put it out there in the universe – working as a cinematographer on a Star Wars project (TV or film!) is a goal of mine! As for films that have made an impression on me, that would be Raise the Red Lantern. I always go back to it in some way in all my projects – the way its visual language is constructed is the inspiration for my framework. A more recent favorite is The Farewell. I was born in Kansas, grew up in Ecuador, and have spent most of my adult life in the US. I identify as Ecuadorian-American so The Farewell resonates with me because I think it captures the difficulty of being caught between two cultures that make up your identity and sometimes struggling with being an outsider in both. It was such a beautifully told story and Awkwafina's performance is amazing…I really can't say enough about how good it is.
Could you tell us about a show or project you are currently working on?
I collaborate a lot with synth-pop artist Charley Young directing and shooting her music videos and so we had one of her music videos that we shot last fall in Montana "I Want It Now" drop in early April. That is probably one of my favorite projects I've done because it's a sci-fi western, which is right up my alley. Both "I Want It Now" and "Minefield" has been playing at some festivals and have scooped up some awards. We also shot two more music videos in mid-June in Sacramento. The first of them, "Scumbag" was released in July and the second one for "I Want It Now (Remix)" will come out in mid-October. I also just wrapped on my third feature film "Amy's Fuck-It List"! It was an intense short shoot in the Sacramento area, but I had a blast. It was Director Mark S. Allen's first film as a director and I'm just so thankful and proud that I got to come along for the ride. The whole crew was just amazing and I'm really happy with what we shot. I believe they're planning on releasing it sometime next year. Next up is another music video collab with Charley!
From the set of "Amy's Phucket It List" (From Right to Left: Cinematographer Emilia Mendieta Córdova, Director Mark S. Allen, Script Supervisor / AD Ke Vadanak, Gaffer Aron Meinhardt and peeking out from behind Mark is 2nd AC Matthew Sangria)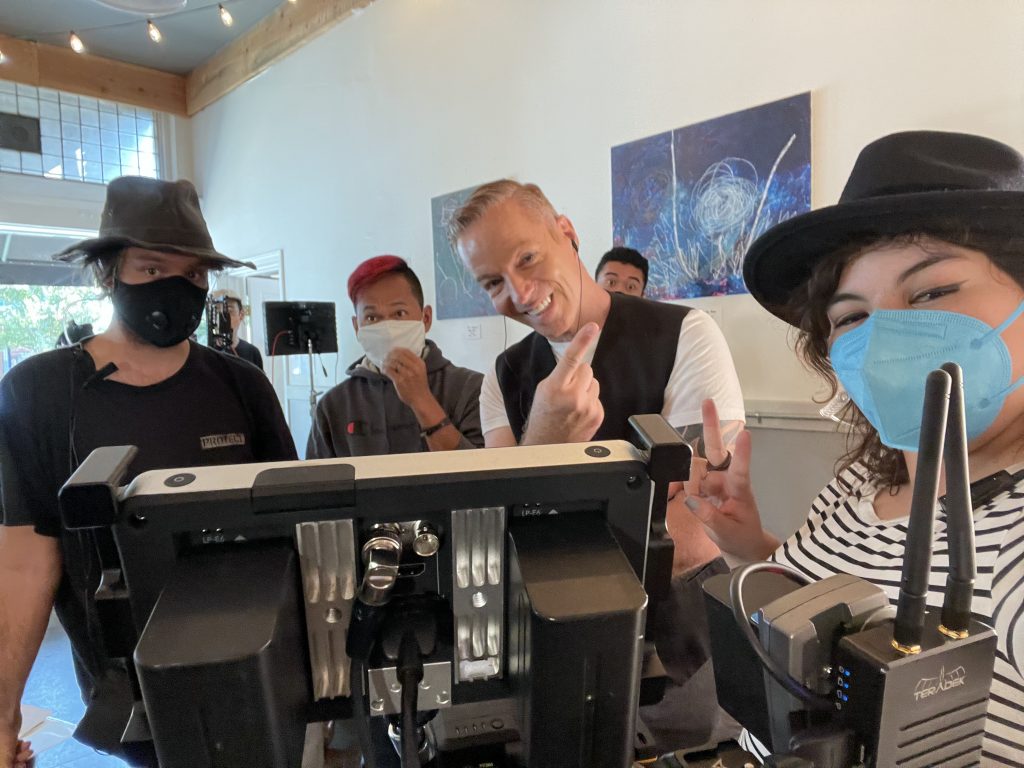 Behind the scenes stills & video from Charley Young's "I Want it Now" shot by Emi:
"I Want it Now" Remix: "The background is actually a LiteMat 4 Hybrid that we were dimming up and down during the takes. It created some really interesting patterns when switching around different focal lengths and when adding a star filter. We shot this on the Alexa Mini LF with Angenieux Optimo Primes"
Behind the scenes stills & video from Charley Young's "Scumbag" shot by Emi.
The following shots are from Emilia's first feature film which was released last year, To The New Girl. It was a very unusual project in that it had an all-female creative team and that while it is based on a stageplay, it retains a lot of its theatrical feel. We shot it in a black box theater so the challenge was how to make a film with a bunch of actresses delivering monologues against a black background visually engaging. No pressure! It was fun to have everything stripped away – it pushed us to think creatively about how we could use the visual language to enhance the powerful performances we were capturing. Shot on an Arri Alexa with Cooke S/4s and currently streaming on Amazon Prime.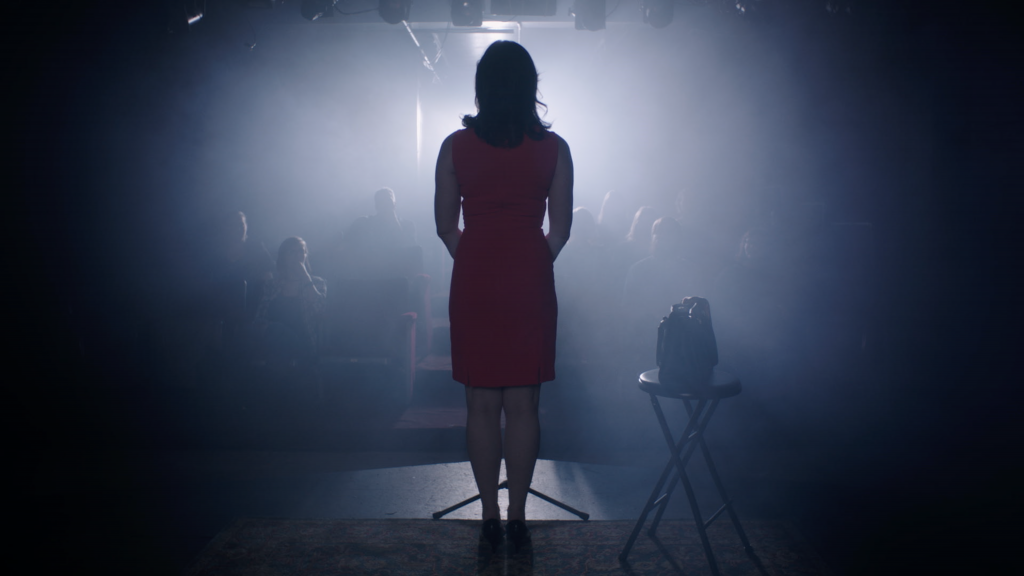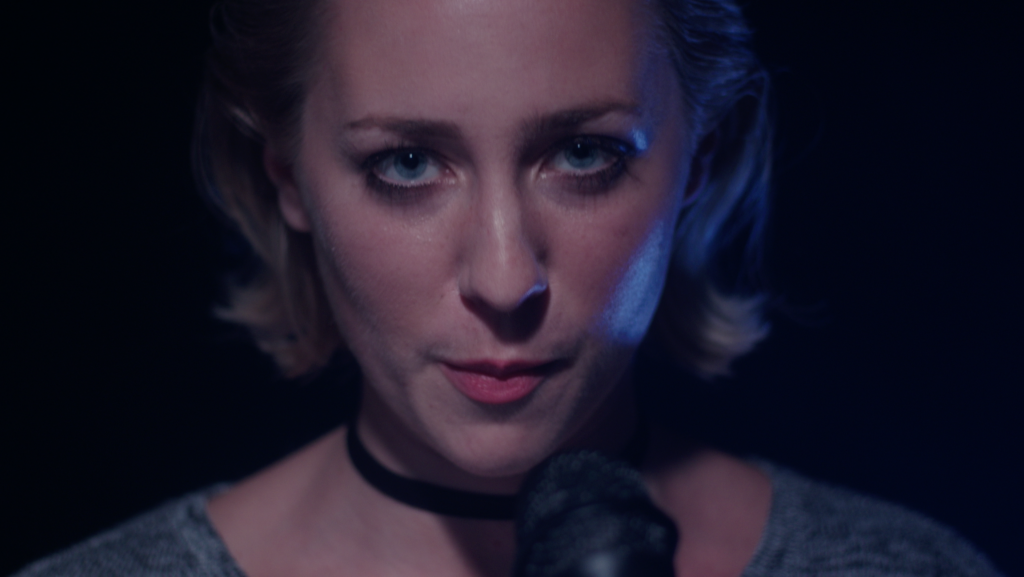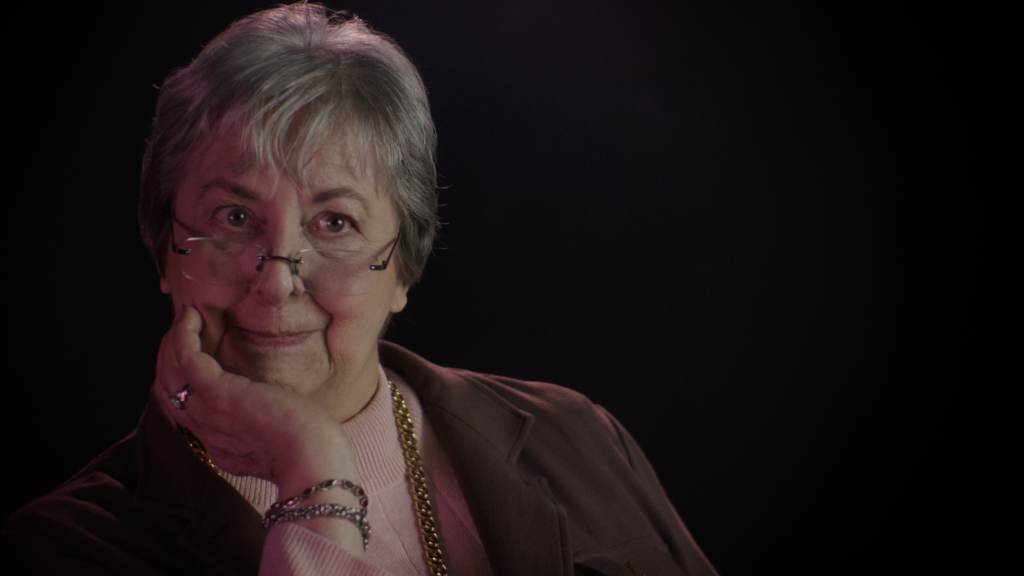 A shot from Emilia's second feature film, Hotel Refinement (currently in the final stages of post-production). "It's a small indie oneiric neo-noir that I shot throughout 10 weekends in Oakland, CA. In this shot, the main character has been on the run with his girlfriend for a while now and the uncertainty of their nomadic life is beginning to weigh on him. I wanted to capture that heaviness through the chaos of the Bay Area landscape. I wanted to compress space in an almost surrealistic way for this wide was shot so I captured it on the 300mm end of a Canon 75-300mm zoom lens with a Sony FS7."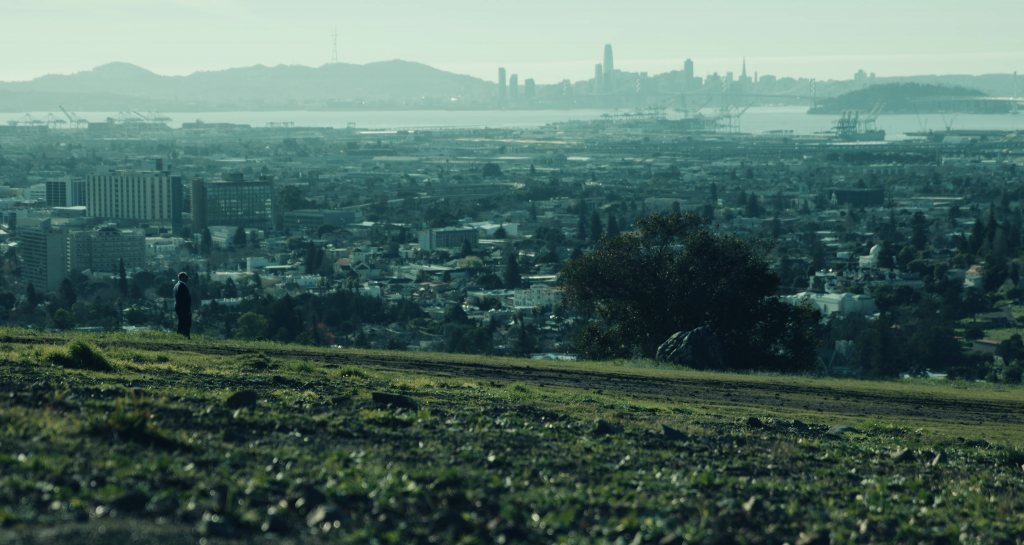 The following shot is from the music video for Charley Young's song Minefield. We filmed at sunset at Whitefish Lake, MT on a Varicam LT with Cooke Anamorphics. It is a love story with a melancholic ending so I wanted to emphasize the magentas, purples, and soft pinks of late sunset for her performance. We worked fast, with Charley nailing every shot in a single take.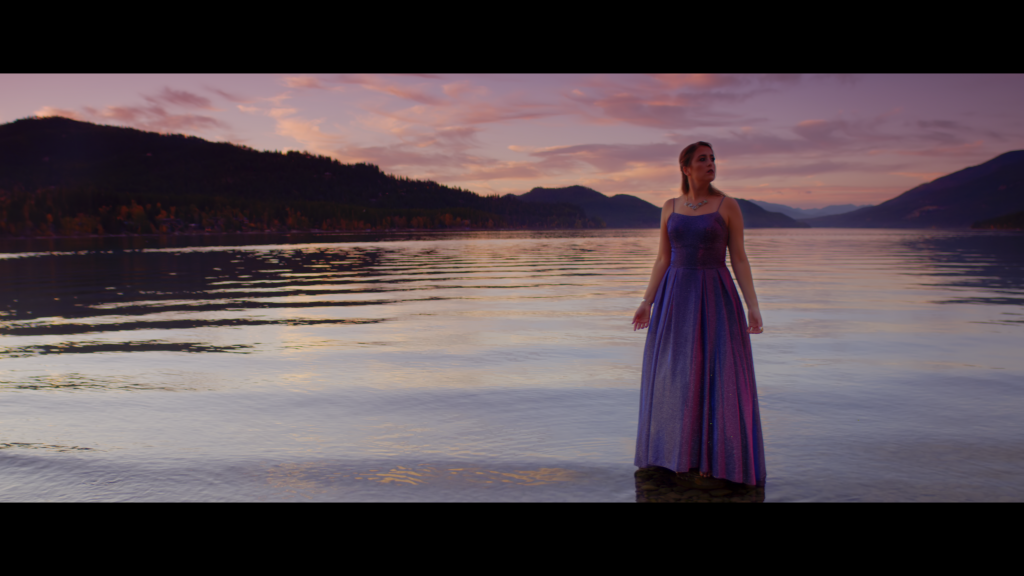 You can check out Emilia Mendieta Córdova's work on her website, and also catch a ton of her work on Charley Young's Charley's YouTube channel. To the New Girl is currently available to stream on Amazon Prime. Keep up with Emilia on her Instagram @emi_mendieta.